We just returned from a week with my parents in Florida. At 80, they continue to amaze; fully independent, active, and enjoying life. But there are changes. My mom's ankle is now giving her trouble. She visited a specialist who took one look at her X-ray and solemnly pronounced his best medical opinion: "your ankle is all whacked out."
While steroid shots are helping, she can't walk as far as she used to, but she has readily adapted, taking sitting breaks during our traditional marathon mother/daughter/granddaughter shopping excursion to Sawgrass Mills mega outlet mall. She was also content to have us rent a "Safari Cycle" during a trip to Zoo Miami and declare "I'm not going to pedal".
For my dad's part, his knees give him trouble, but that didn't stop him from taking 10-year old Theo to the park every day to play basketball. On one trip, he did "a funny move" and fell like a bug on his back and had some trouble getting up, but some "nice young men" playing in the adjoining court came over and helped him up. He told them he was eighty and "they couldn't believe it!"; their disbelief made his day.
My folks have a lovely routine: a sunny breakfast; trips to the bookstore for the (multiple) newspapers they read; tandem crossword puzzle solving; going to the pool; and lastly, but most importantly, Publix. My mom has been to every Publix in a 30 mile radius, but her favorite is about 2 miles from their place. She loves the layout and ease. Going to Publix is an occasion. She is now what I call a "European" shopper, getting daily groceries rather than making a weekly trip. There was talk of going to Whole Foods while we visited, but my mom said "I know my limits. I can't handle that store. I don't know the layout. It is overwhelming. And let's not even talk about the parking lot". I thought that was kind of…."rigid", but I let it go and off we went to Publix.
After the zoo, I arranged for a lovely dinner at a highly rated Miami restaurant. The scene was gorgeous with an incredible sunset to watch, an attentive server and delicious food.
My dad however, looked like he smelled something bad. My husband turned to me and said "Your dad is NOT having a good time". I mentioned this to my mom later (who loved the whole thing) and she said "Dad is most comfortable at the places he knows…knows the people, knows the menu." Again, my thought bubble said "Rigid?!".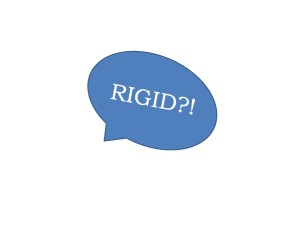 Back home in Ann Arbor, I mentioned the dinner experience to a colleague also with parents in their 80's who nodded knowingly: "When we go back home, there are only 2 restaurants we go to–the steak house and Applebee's. Do I want to go to Applebees? No! But I would rather that than have to deal with my mom's extreme discomfort at a place she doesn't know".
Then I was in the local Whole Foods the other day and got in a very short line with only 2 items. I was in a hurry, needing to get a birthday card for one of my staff and still get to clinic on time. The lady in front of me (about 85 by my guess), wanted a gift card. Seemed simple. Then the employee told her that the gift card itself would cost a dollar because they were donating it to a "good cause". That triggered a lot of confusion and a 10 minute discussion (my thought bubble "it's a frigging dollar!…ok, stop that, you are a geriatrician…yes, but I need to get to clinic!!"). Once that was finally resolved, it turned out the lady actually had a little cart full of items that had been hidden in front of her, unloaded. Without a word, she suddenly turned in my direction, practically threw my 2 items off the belt and started unloading hers. While her behavior seemed rude, I deduced that she was simply overwhelmed by the whole gift card debacle. I also changed lines at that point, because like I said, I had to get to clinic. When I left the store, she was still checking out.
I have been mentally trying to jive these personal experiences with my professional work with older adults. We constantly tell older adults to try new things: "Stave off dementia! Learn a new language! Play the clarinet! Take samba lessons!". But if new things overwhelm and stress the person, could they be defeating the purpose? Stress and anxiety are also not helpful for your brain. Perhaps the message should be try new things in moderation, kind of like the old childhood song "Make new friends and keep the old…one is silver and the other gold". Routines, like old friends, are comforting and good, and folding in a little, but not an overwhelming amount, of novelty is also good.