Here is my new head shot for work. Like it? I do. It's pretty nice. Thanks again to Jen Geer Photography for making the process fun, quick and easy.This post really isn't about my headshot, but that's how my day started. I had asked our Department IT guy to switch out my old headshot for the new one and then Googled myself to make sure the switches had been made on various Department, Program and UM Health System websites.
Here's where the story gets interesting. They say not to Google yourself, and it's probably pretty good advice. Here's what I found:
Ok. Let's see here. There's our Program website, there's the Health System website, there's a news piece about some of my research, there's the HealthGrades.com website where I have a 1-star listing, there's ResearchGate—HOLD UP. I have a one-star (out of five) listing on something called HealthGrades.com?
God help me, but I couldn't resist. Click.
Here is what I saw next: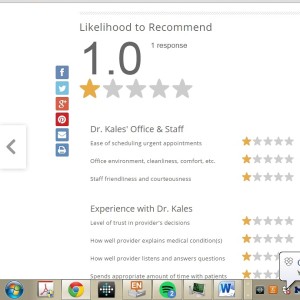 So apparently, a reviewer gave me one star (e.g. THE WORST) in EVERY SINGLE CATEGORY. Ok, I say to myself, let's look at the categories: trust, explaining medical conditions, listening, spending the appropriate amount of time with patients. Per this reviewer, I am THE WORST in all of them. Hmmm.
Ok, what are the other categories? Looks like these are for my facility and staff. Let's see what the reviewer said….oh, looks like we are ALSO THE WORST in terms of scheduling, cleanliness and friendliness.
As a person, I admit, my first thought is, "who hates me this much?". My second thought is, this person is seriously disgruntled with me. Am I really so untrustworthy? Such a crappy explainer of medical conditions? Have my fingers in my ears when patients talk? Give them the bum's rush out of my office? (that last one is kind of funny, because if anything, my clinic runs late because I tend to go over time with people, especially if they are in crisis).
But let's forget about me for a moment. Our wonderful clinic staff who specialize in the care of older adults are really the MOST UNFRIENDLY? Our beautiful pristine facility is really the LEAST CLEAN clinic this person has ever been to?
Because I do mostly research these days, I see a pretty limited number of patients, most of whom I have seen for years. Would someone who thinks I am the WORST DOCTOR EVER really keep coming back to see me? Year after year? My patients also tend to be a pretty outspoken lot. A patient once commented pretty openly about my very dark toe nail polish color. And by "commented", I mean to say she blurted out: "Dr. Kales, your toenails look like sh*t!" (and brought me a beautiful pink shade of Opi at the next visit).
So, not exactly a group of shrinking violets. And I love them for it.
After my morning of personal research, here are thoughts on physician ratings (and take them for what they are worth, because apparently, I may be the WORST doctor ever).
Anyone can write a rating of a physician. Whether they have ever seen that physician or not. So my review could have been written by a neighbor who doesn't like how barky my 2 dogs are (and they really are pretty barky, but I'm working on it).
This applies to positive ratings as well. I could get my mom, who may be my biggest cheerleader, to write one (hey, maybe that's not such a bad idea? I kid. I kid).
Speaking of my mom, when she read a draft of this post, she said "the person probably thought that a 'one' was the best and just made a mistake…I am eighty-one years old and pretty smart, but sometimes I get confused with these kind of ratings". First of all, let me just say, I LOVE YOU MOM! But second, that is a valid point.
Even if written by a real patient, physicians, unlike hotels on TripAdvisor, can't really address the bad ones because of privacy.
Ratings CAN be really useful, IF they are valid. We use them for rating lots of "products" like hotels (TripAdvisor), books (Amazon) and cars (ConsumerReports). But, because of the issues I note above, we probably need to think of new and more creative ways of measuring physician quality that are easily accessible to the public. I would also note that typically for products, you need to write something about what happened and not just do a numeric "drive-by" (e.g. I have to say how my hotel experience was in words not just in numbers for TripAdvisor).
Constructive criticism is really valuable. I wouldn't be in the world of research, where I literally get 3 kicks in the teeth for every pat on the back in grant and paper reviews, if I didn't have a pretty thick skin. But the difference here is that the academic kicks in the teeth actually come with good thoughts and ideas about how to make the 'product' better. As a clinician, I would love to get the same.
In sum, I encourage you to tell your physician how he or she is doing (or how their nail polish looks). But when you do it, like my patient who brought me a nail polish color she liked better, tell them how they can improve or how you could be more satisfied. Or to put it more plainly, don't just tell them they stink, tell them how they can stink less.