We left for London on Friday night. This trip, it is my older daughter Tasia and I. For me, a week in London at the Alzheimer's Association International Conference, as well as meeting with London collaborators on dementia research. For Tasia, a pre-med student, the opportunity to shadow doctors at the National Health Service. On our fourth trip to London, we decided to stay in hip East London to experience a different part of the City. The specific area (Shoreditch/Hackney) has been compared to Brooklyn and the Meatpacking district of NYC. So, pretty different than the places we have stayed before in the West End. Also, having "done" the usual sites (Big Ben, Parliament, Buckingham Palace, etc) on prior trips, we wanted experience something a little more local.
The trip started pretty auspiciously. We had time for a quick snack at PF Changs in the airport and got these promising fortunes.
On the flight, we settled in Delta Economy Comfort with that little bit extra of legroom. However, despite sleep masks and good intentions, neither of us seemed able to doze off for more than 15 minutes at a stretch. Arriving in London at 6:25 AM, we guessed that both of us had had a total of 3 hours of intermittent sleep.
We stumbled thru customs and got in touch with Tasia's friend and University of Michigan housemate Abby. Abby has been traveling all over Europe this summer and arranged to meet us in London for 2 days. We found a "Hotel Hoppa" bus (the name of which in our sleep-deprived state gave us the giggles as we repeated it to ourselves) to take us to Abby's hotel. The bus must have stopped at five hotels before we got to Abby's and we amused ourselves by crabbing to each other about everything and everybody on the bus. Once there, calls were made to the management of the flat where we would be staying. We were dismayed to find we couldn't get in until 2:30 PM. Now the task was to stay awake, upright, and sane until then.
We dragged our suitcases to the East End where the company offices were and ditched them there. We then headed off to the BOXPARK shopping area of Shoreditch (a popup mall made out of shipping containers) and wandered around. While ordinarily I would have been thrilled by such a jaunt, I found myself tired and completely irritable. Tasia recalls saying at one point,  "Look at that dog!" To which I nonsensically but crabbily replied, "Oh great. Here we go."
Realizing I had "had it", I retired to a coffee shop to read email while the girls continued on. We stopped for lunch at Dishoom which we had discovered on the last trip. Dishoom is said to be modeled after the old Irani cafes of Bombay, and has delicious Indian food in a vintage comfortable atmosphere. We sunk into a booth and lunched on Samosas, Ruby chicken (think chicken makhani) and Dishoom's version of calamari. Feeling slightly better, we realized it was time to go get our suitcases and Uber-ed over to our home for the week.
Sadly, the 2:30 time came and went, and we were still standing outside the building. At this point, I could barely stand up. I tried to sit on my suitcase, and somehow fell over, which cracked the girls up. The building manager saw us and after seeing our paperwork, let us into the lobby to wait. There, to Tasia's chagrin, I laid down on the couch.
My rest was shortlived as I realized that my phone was dead and I couldn't reach the flat manager. I found a plug behind a desk and briefly charged my phone to call her. A woman with a baby carriage waiting for the elevator suddenly confronted me "Are you charging your phone? You know, that is electricity we all pay for!". Dumbfounded and beyond grouchy, I somehow calmly but sarcastically stated "Seriously? I am charging for a few minutes to make an urgent call. But thank you SO much for your concern." She slunk away and the girls dissolved into laughter. In a Seinfeld George Costanza moment, I realized the only thing that would have made that retort more perfect would have been to bestow a pound on her for the electricity I was using for that minute.
Finally, a woman came down and led us into the flat. Totally worth it. I will let a few pictures tell that story.
The girls went out for Italian while I headed to the local Tesco for the basics including coffee and single cream (there is no "half and half" in the UK, half cream is hard to find, so I get the same effect by using single cream and watering it down in my coffee). I also purchased a new battery for the smoke detector that was constantly chirping, and was thrilled that I was able to change it myself (usually such tasks are reserved for my engineer husband).
After a shower and some Cheerios, I began to feel a little more normal. I sat on the deck overlooking the bustling street and enjoyed the sunset.
After a wonderful sleep, we woke up on Sunday and headed for the Columbia Road Flower Market, a short walk from the flat. Every Sunday, this street is transformed into a garden of flowers and foliage. Walking toward the market you see people carrying everything from bouquets of roses to giant rubber plants. Of course, I had to buy flowers for the flat.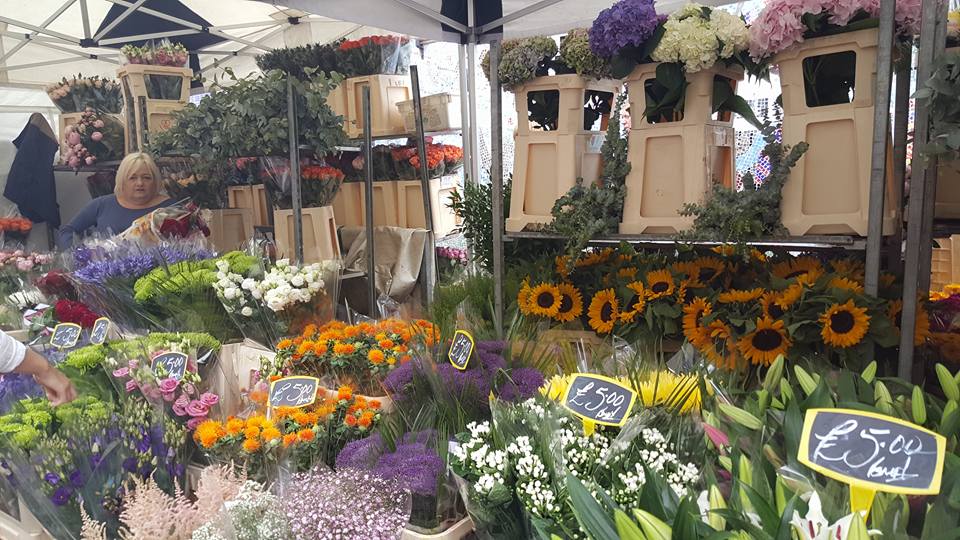 After the Flower Market, we headed to the Geffrye Museum whose stated purpose is to depict the home lives of the "middling classes" in London from 1600 onward. Tasia had found it online and said "Mom, you will totally love this". While we walked to the Geffrye, we noted weekend "markets" selling everything from paella to hand made clothes everywhere we turned. Once at the Geffrye, it did not disappoint (Tasia knows me so well), with time capsule rooms including my favorite mid-century period.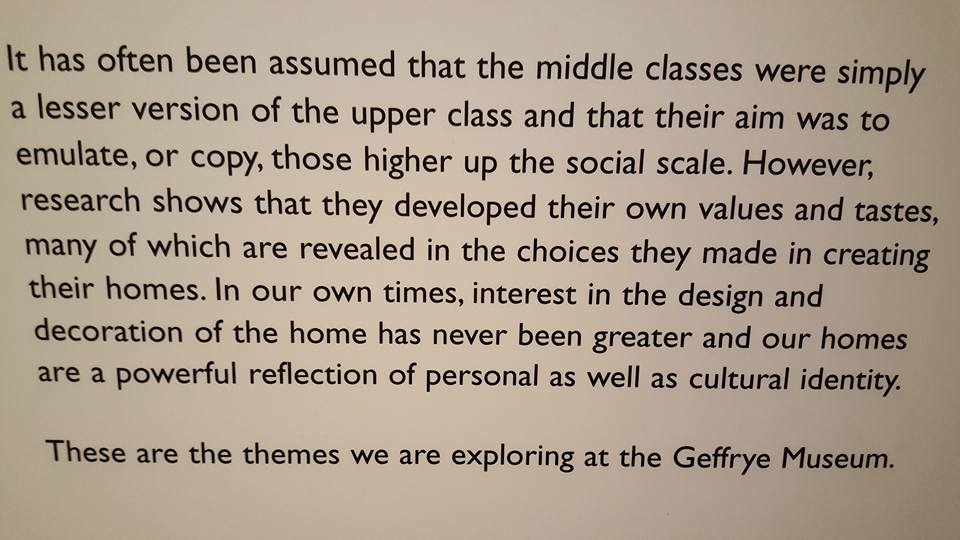 Outside, the Geffrye's gardens (also by time period) were also a delight. I had to laugh at the signs on the lily of the valley that noted not to eat them as they were poisonous. My parents have a ton of those outside their condo in Ann Arbor. Duly noted not to eat.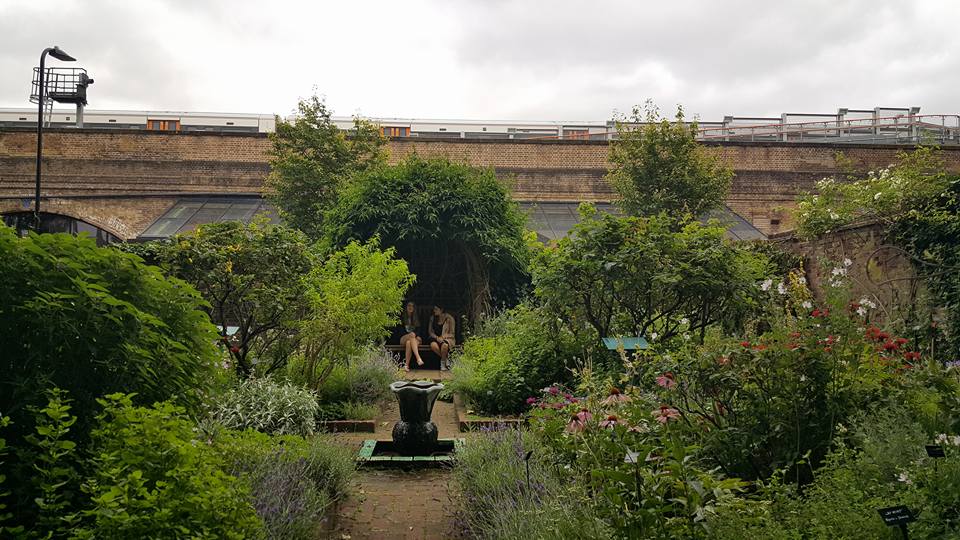 After the Geffrye, the girls and I went to a smart café called Beagle. I observed to the girls that I was the oldest person in the restaurant—by far. They laughed and then Tasia scanned the place and said "Oh no, there is a grandma over there with a young family". Haha. Great.
I parted ways with the girls who went on to see some sights since Abby had never been to London. I headed for the meeting at the ExCeL conference center. Located East of the City, ExCeL is monstrous, and it felt like I had to walk a mile to get to the registration. Following that, I loaded up my slides in the speaker's ready room and headed off to where I would give my talk.
A quick stop in the bathroom confirmed my worries that the cool but somehow humid British weather was funking up my bangs even worse, but there was little I could do about that. I found that the meeting room was much bigger than expected, holding several hundred people. I quickly adjusted my expectations, noting that I would be talking to a crowd rather than the handful I expected in the late afternoon on a Sunday.
The talk went fine and people were very interested in our DICE Approach and WeCareAdvisor tool. As I left the room, people continued to ask me questions, which was very gratifying. Presentation #1 down and 2 more to go later this week!
I headed back to the flat, meeting Abby and Tasia. We walked over to Broadway Market, an East London street running from London Fields to the Regent's Canal in Hackney that is full of shops and restaurants. We chose Bella Ditta, a lively Italian place and had delicious pasta and shared a scrumptious dessert (forget the name but some kind of chocolate cream-puffy thing).
Off to bed to start the rest of the week! More updates to come. Moral of the story so far: when you hit the wall, push through because what is on the other side is pretty great.