Written in pink marker, "The List" appeared on my night stand.  It was the evening before my 13 year old daughter's field trip to Mexicantown in Detroit with her Spanish class.  Sophia had asked me to be one of the chaperones: "My friends like you…they think you are fun."  I was slightly suspicious, but honored.  Who doesn't want to be the fun mom?  And then the List appeared.
Titled "Things you may not do on Sophia's field trip", the List included:
Wearing yoga pants
Wearing my purse as a backpack
Taking a separate car (specifying that I needed to take the school bus)
Talking weirdly (including the further direction "no weird voices")
Let's take this point by point.  Number 1.  I dress up for work, but in my downtime, I LOVE to wear yoga pants.  Combined with a ponytail, sweatshirt and a baseball hat, I have my "mom" uniform.  Number 2.  I had recently bought what I thought was a very cool purse that converted into a backpack.  How handy for a busy mom on the go!  Number 3.  I had to go back to work after the field trip and didn't want to take the bus.  Number 4. Talking weirdly…hmmm, how do I explain that to the reader?  Sometimes with my kids, I like to use accents or different voices for kicks.
All these things were off limits for the fieldtrip.  At first, I was bemused.  Then, I was a little irritated (after all, I do like the comfort of my yoga pants and I was taking the time to go on this field trip) and insulted (my backpack purse wasn't cool?).  But then, I got to thinking.  Sophia really wanted me on this field trip.  Why not try to meet her in the middle?  I ended up wearing an outfit she was very happy with (no yoga pants), wore my purse on my shoulder, and maintained my normal speaking voice at all times.  I drew the line on taking the bus.  I did have to get back to work.  And I didn't want to ride the bus with a hundred screaming kids.
We had an incredible time in Mexicantown. We ate tamales, conversed with shopkeepers in Spanish, saw tortillas being made and toured an art museum.  As I drove home (not in the bus!) and the sun poured through my windshield, I felt wonderfully lucky that my daughter had included me in that day and I got such a lovely glimpse into her world with her friends.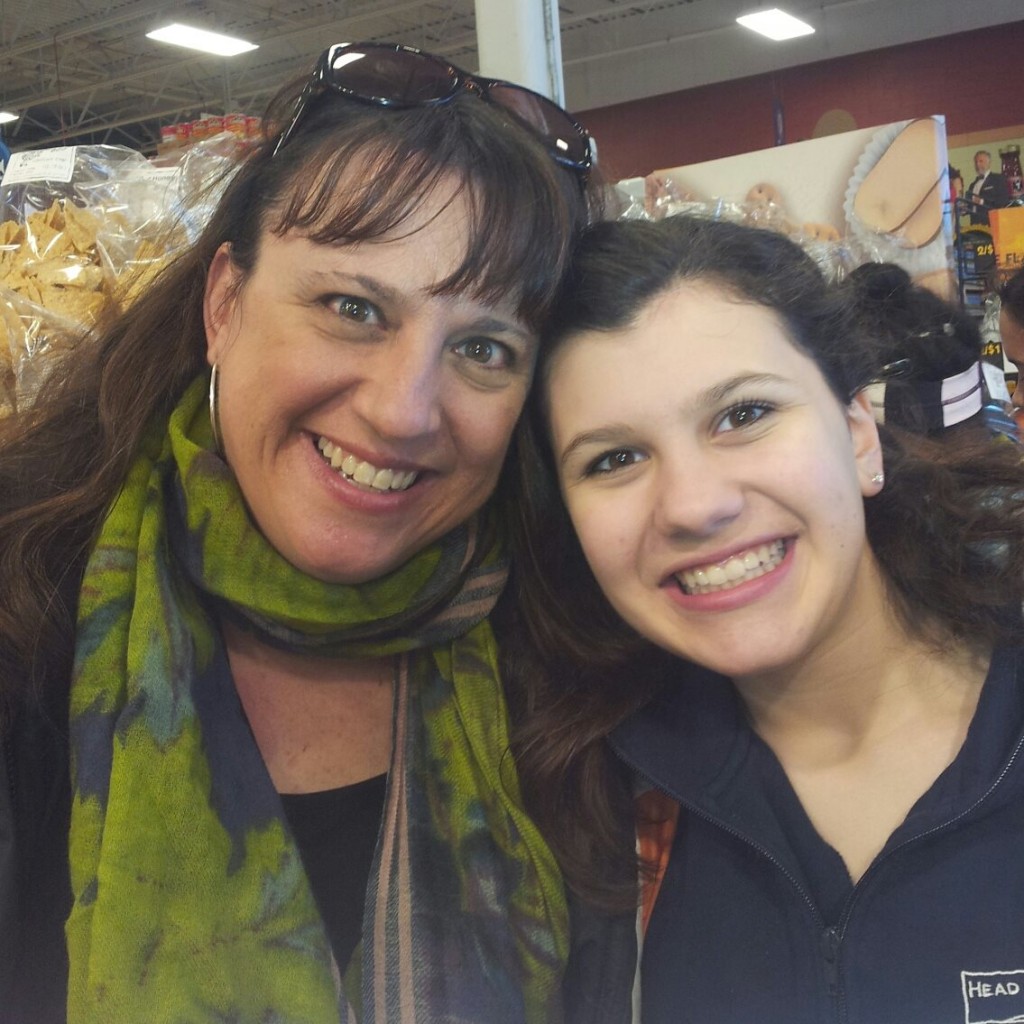 Sophia and me in Mexicantown
At this point, the reader might be asking, what do yoga pants have to do with aging?  Here are some connections that occurred to me.  As we get older, the tendency is to go to our comfort zones.  We can get set in our ways and our thoughts.  We may be less likely to try new things.  We might think to ourselves, "no one cares how I look (or what I think or what I feel), and then we internalize this feeling.
A patient of mine always arrived to her appointments dressed to the nines with smartly styled pantsuits, coordinated shoes and purse, and manicured nails.  To top it off, she frequently had a new pair of very stylish glasses. She told me that she didn't like the way some people her age stopped caring about the way they looked, dressing sloppily or in sweatsuits.  She felt that it reflected them not caring about themselves.  Additionally, despite being in her 90's and limited due to arthritic pain, she enjoyed and became energized by hanging around younger people, seeing the latest movies and staying up on current events.  It kept her thinking "young" and feeling younger than her age.  This woman was actually ahead of her time; "Advanced Style" is now cool.  Check out Ari Seth Cohen's blog.
One of Ari Seth Cohen's Advanced Style Ladies
I definitely hope to age with elements of an advanced styler (and with Sophia by my side, it is more likely!)  Now, I am not saying that I will never again wear yoga pants (in fact, I *might* be wearing them as I type this….), but I do think it is worth trying to regularly try to push ourselves out of our "yoga pants comfort zones" to try or do something new (said in my best "weird voice"—if you ask me what it is in the comments, I just might tell you).
 Mural in Mexicantown